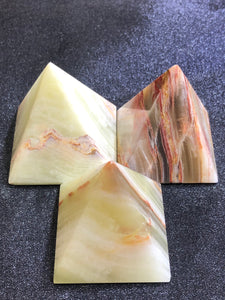 Green Onyx Pyramids - from Pakistan.

Price is for one (1) piece.
(Picture is example only | Please allow for some natural variation in size, shape, and colour/hue.)
Size: Approx. 39x39 mm - Weight is Approx: 61 grams
Green Onyx provides support in difficult or confusing circumstances and during times of enormous mental or physical stress. Centering your energy and aligning it with a higher power, accessing higher guidance.

Chakra: Heart - Zodiac: Gemini, Virgo
 # 3547