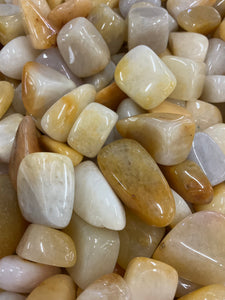 Tumbled Yellow Aventurine - from India. Price is for one (1) piece.
Size: 20 - 28mm  - Weight: 10 - 18 grams (Picture is example only | Please allow for some natural variation in size, shape, and colour/hue.)
Yellow Aventurine is an excellent stone to stimulate will power. It also attracts prosperity and is often used in money spells. It can also help by showing the paths for others possibilities. It is believed to fight sadness and lethargy.  
Chakra: Solar Plexus - Zodiac: Aries
# 274